Let's get a few things out of the way from the very beginning: first, this was an incredible game, and the fact that it didn't end with the outcome that Texas fans hoped for does not negate that. This was a four-overtime thriller, and I think inherent in a phrase like "four-overtime thriller" is the understanding that there were some fantastic performances for stretches of the game that should be applauded.
Second, even if Texas somehow pulled out a win in this game, it wouldn't have papered over the fact that there are some incredible issues with this team. I think both things can be simultaneously true. This was an truly great game and Texas was as far from being great themselves as the Oklahoma defense was from Keontay Ingram on the fourth quarter, game-tying TD.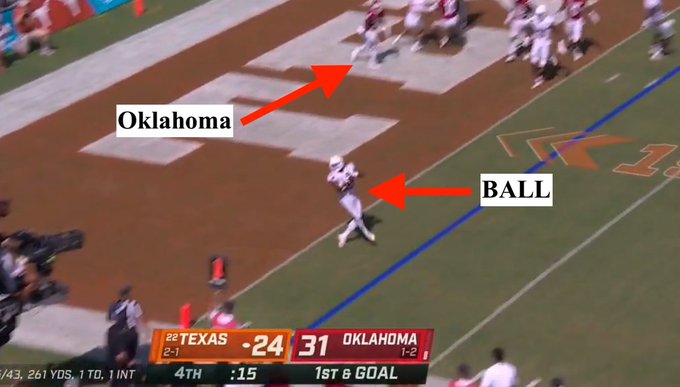 Texas' inability to capitalize on defensive wins, offensive line struggles, Sam's passing accuracy, OU's defensive strategy of holding on every play and forcing the refs to call it, punting issues, and veterans making boneheaded plays were the differences in this even needing to go to overtime. For the second week in a row, Texas was the better team and ended up with a loss. The defense had incredible stretches throughout this game (3 successive turnovers, 4 consecutive punts forced), and Sam went into "Sam in the final 4-minutes" mode – but it ended up being moot in light of the larger deficiencies.
1st Half
Let's walk through this one sequentially: the first quarter ended with Texas down 0-10 to an OU team that looked to have some glaring issues themselves right out of the gate. It also immediately introduced the nightmarish overarching theme from the TCU game: Texas' offense struggled with consistency and seemed to crater every time the defense did something good. After forcing an OU 3-and-out on the opening drive, Texas fumbled on it's second 2nd play of the game. This also introduced the struggle with the running game that I think was exponentially more the fault of an offensive line failing to get an initial push than anything a running back did after the Keontay Ingram fumble. I believe the consecutive fumbles across two games also led offensive coordinator Mike Yurcich to abandon the run quicker than he might have otherwise.
The Texas D actually showed a considerable backbone to bend but not break, and after a very obvious personal foul on Moro Ojomo (veteran mistake) gave OU the ball on the 4 yard line, the defense rose to the occasion to hold OU to a field goal. I will credit that as a huge win for the defense. How did Texas respond? Sam Ehlinger immediately threw an interception that was negated by a defensive holding penalty. This introduced two of the other prevalent themes in the game: Ehlinger's accuracy would be off for the majority of the game, and OU would continue the Alex Grinch admitted defensive strategy of holding receivers and putting the burden on the officials to call it every play. The refs called many of them, and let quite a few slide.
After looking a gift horse in the mouth, two Ehlinger overthrows on deep balls (including a very questionable jump ball into double coverage on 3rd and 6) saw a 4th theme introduced in the opening minutes of gametime: punting struggles. Ryan Bujcevski shanked a 21 yard punt to set up good field position and ultimately a 4 play, 60 yard TD drive for the Sooners.
The ensuring drive sputtered on a pair of poor decisions by Sam to not keep on zone reads. They at least picked up a few first downs, but continued to see no success on passes downfield. This drive saw both Ehlinger misfires and the beginnings of a problematic OL theme of OU's front 7 getting pressure any time they wanted, especially on 3rd downs. Of the three, only Sam's running would be resolved by the end of the game.
The defense responded by forcing a turnover with a masterfully-schemed drop on 3rd down with Demarvion Overshown. Unfortunately, he only returned the interception to the 11 because the Texas offense would ultimately have to settle for a field goal on their first drive of the second quarter. This involved a combination of the theme of offensive struggles after a defensive stop and of boneheaded plays by veterans – Derek Kerstetter, a senior captain committed an unconscionable late hit after Sam scrambled to the 4th and inches line, forcing the Longhorns to settle for 3.
The offense would get their only turnover-resultant touchdown on their next possession however, as the Longhorn defense truly had the OU freshman quarterback Spencer Rattler rattled. T'Vondre Sweat popped the ball out and the Horns quickly drove 19 yards for a touchdown after the refs chose to call one of the many interferences/defensive holdings that are inherent to OU's base defense.
One of the turning points in the game – and trust me, I am well aware that this game had more turns than a telenovela season finale– was when Chris Ash's defense made it's third consecutive takeaway on an incredible Culture play from Joseph Ossai to chase a play downfield, the Texas offense promptly went 3-and-out only to be outdone by the punt team – having ANOTHER punt blocked (their second of the season, though there have been at least 2 more close ones). The key part of that drive was Sam Ehlinger short-arming a pass to Tarik Black that negated a 22-yard first play that killed any sense of momentum and ultimately shifted it back to OU.
Lincoln Riley pulled his talented, but struggling freshman QB and inserted Tanner Mordecai who orchestrated a short 5-play drive to finish the blocked punt and Texas trailed 17-10. An admittedly valiant drive in response saw Texas tie the game, while throwing the ball decently, including a pump fake and ~25 yard ball on the money from Ehlinger.
Texas had an additional chance to take the lead, but after taking over near midfield after a stop and nice return with 1:14 remaining, Texas had a drop on 3rd down and a costly false start from returning starter Junior Angilau to take even a field goal off the board. Based on points left on the table and failure to control that greasy pig called momentum, I commented at the time that "Texas trailed 17-17."
Second Half
The third quarter opened with the Longhorns attempting to establish the run, but after an unnecessary penalty on veteran receiver Brennan Eagles, Texas got behind the chains and an offensive line-induced sack ultimately saw them punting to open the half, a major trend of the second half. Oh and on that punt? A rare PERSONAL FOUL ON THE PUNTER (a veteran) after an already long return to give OU an easy 30 yard TD drive and a previously-benched QB an easy drive to rebuild his confidence.
The ensuing Texas 3 and out after a failure of the line to protect Ehlinger was followed by a good punt from Bujcevski, attempting to redeem his previous woes. However, this just gave Lincoln Riley and a now settled-in Spencer Rattler the chance to go more boa constrictor than Rattlesnake and reel off a 17 play, 87 yard drive. This had every right to break the back of a Texas defense that previously had held it's own against OU's offense, Texas' special teams, and Texas' offense all attacking them.
However, the defense would not give up another point in regulation and is the sole reason Texas even had a chance to make this an all-time epic shootout. Look at the defense's next 4 drives:
Even though they could've hung their head when on 3rd and 1, Sam decided to stick with the scheme to get Bijan 1:1 deep on the outside (and he did have a step) in lieu of the VERY wide open mesh beyond the marker, the defense held strong after Tom decided to punt it away and get the ball out of Sam's hands.
When Texas got one first down, but Sam missed Tarik Black with a step on his man deep on a seam route and ultimately punted yet again, the defense said "I got this."
After the offense drove 67 yards, only to be intercepted in the endzone with a two-score deficit, you would forgive a defense for hanging their heads – but they persevered. The defense, for all of the hate they will get for giving up 53 points when the smoke cleared, were the only ones who believed that the Texas offense could win this game, if given the chances. And chances they received.
After Sam's interception at around the 5-minute mark, the defense forced two quick 3 and outs and allowed -6 yards the remainder of the game. There is no doubt that the offense turned a corner in those final 5 minutes, much like they did in the Tech win and they tried to against TCU (going 74 yards on their final drive, but coming up a crucial one short). But they only have the room to reel off 12 plays, 138 yards, and two TDs to send the game to OT because of the defense.
There are many who will question the decision not to go for 2 after scoring with 14 seconds left, and that and many other coaching decisions warrant some further inspection this week, but reviewing the defense I just described, in their second week of being Texas' best unit by leaps and bounds, can you blame Herman for trusting the defense?
OT
Ultimately it seemed to be a bridge too far as fatigue from minus-12 minutes time of possession, injuries in the secondary, coupled with Texas' offense coming back to earth a bit as they resumed a tempo that yielded very little for the first 80% of the game. Texas and OU traded punches for the first two overtimes, before OU decided to spy Sam and take away his running threat. An improbable FG miss from Gabe Brkic who is Justin Tucker-esque accurate, gave the Longhorns new life, but there was no gas in the tank and the summation of 5 hours of poor execution and the themes referenced throughout ultimately won out.
Texas has a bye-week before taking on a Baylor team that recently suspended activities due to Covid, so it is a perfect time to do some soul searching and figure out what their identity will be for the rest of the season and which of these errors can be schemed and executed out of the team's DNA.
Latest from our Community