Each week HornSports will take a look back at the national scene in college football, so mount up and let's ride out and check the perimeter.
***
West Virginia was primed for an upset of Texas. The stadium was packed and the Mountaineers played with enthusiasm, but the Longhorns did just enough to never let negative momentum build to a crescendo.
Cincinnati got over that hump though…the Bearcats were ready for UCF on Friday night. The sold out stadium was impressive with the "black out" and from the opening kick the team played like they believed they were better. (photo credit: Dan Hoard)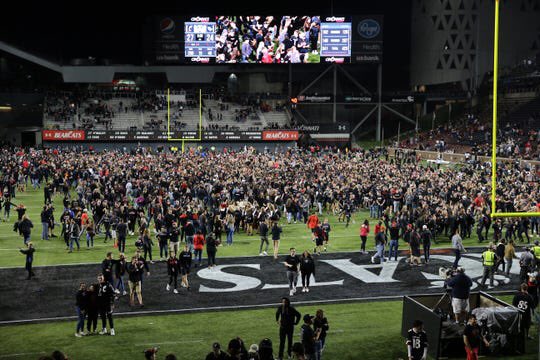 In the second quarter the Oklahoma Sooners had 4th & goal to go….from the Kansas 45.
Kansas led OU early in their game, but neither the players or fans seemed to have any belief that an upset was brewing. The vibe in Lawrence was that they were "just happy to be here" – not that they might actually win.
Even Maryland uses Rutgers to get back to a winning groove…after starting 2-0, the Terrapins had a reality check and were outscored by 62 points in two losses. Enter the 1-3 Scarlet Knights and Maryland gets a six touchdown victory.
The South Florida Bulls ended a concerning streak of negativity with a 48-22 win over Connecticut. "How hot is Charlie Strong's seat?" will be an interesting question to follow during the second half of the season.
Texas Tech beat Oklahoma State, which shuffles the pecking order in the middle of the Big 12. After an unexpected loss to the Red Raiders, the question is if Oklahoma State was propped up with wins against low level competition?
This week in Ugh-lternate uniforms: Georgia Tech's caped masterpiece gets a pass because it was worn to raise awareness for Children's healthcare.
Week 6 Uniform of the Week Countdown

#2 @GeorgiaTechFB #uniswag pic.twitter.com/YR99fEUJL3

— UNISWAG (@UNISWAG) October 7, 2019
Oklahoma had an utterly forgettable first quarter before crushing Kansas. Were the Sooners looking ahead to the Red River Showdown against Texas?
Wisconsin running back Jonathon Taylor had five rushing touchdowns, 215 yards, and nearly ran for 10 ypc. The trend is for the Heisman Trophy to be awarded to a quarterback but Taylor's season may be giving voters a reason to re-think their choice.
Michigan scored 10 points in the first 6.5 minutes versus Iowa and then nothing else for the remaining 53.5 minutes. Final score: Michigan 10 – Iowa 3
SMU rallied for a 21 point comeback in the 4th quarter against Tulsa, and eventually won in triple overtime. At 6-0 the Mustangs became the first FBS team to be bowl eligible, and are off to their best start since 1982.
Despite a furious comeback, Miami lost to Virginia Tech 42-35. The Hurricanes are a miserable 4-12 against P5 opponents since their 10-0 start in 2017.
Leave a Comment via Facebook